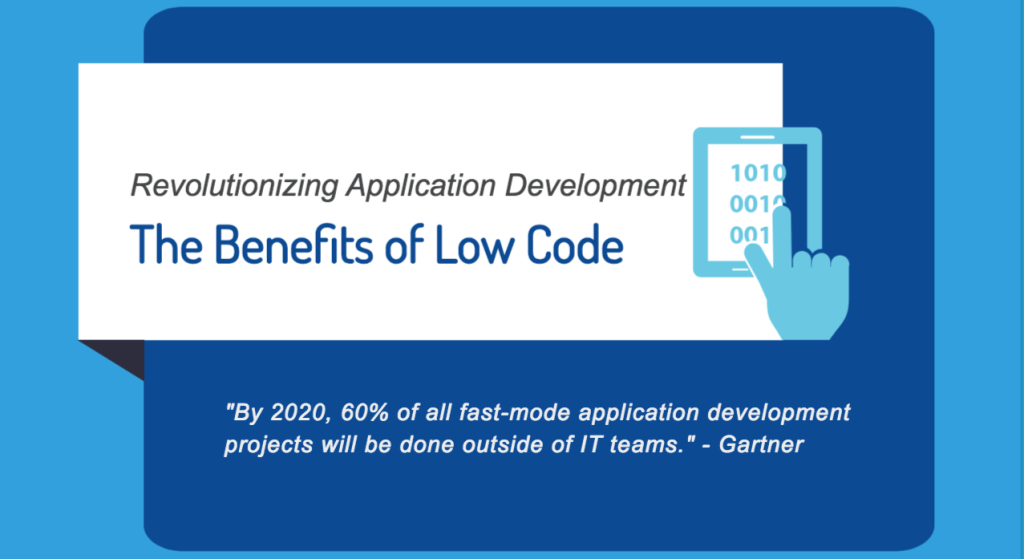 [Infographic] The Many Benefits of Low Code Application Development
"By 2020, 60% of all fast-mode application development projects will be done outside of IT teams" – Gartner
Low code development platforms, such as Quick Base, simplify the app creation process significantly. They do so by offering a great user interface and removing the complicated, code-heavy obstacles of traditional computer programming. 
Choosing a low code provider is the first step in modifying your app creation process. Quick Base is a leading low code development platform. By aligning IT and Business in the process, Quick Base allows for solutions that boost productivity and flexible scalability.  As a Quick Base solution provider, Trinity provides businesses with a more streamlined user experience and accessibility. 
Benefits of Low Code
Low code offers a plethora of business benefits. Apps built for Quick Base's platform have been known to result in ROIs of up to 260%! 
By switching to a low code development platform, not only will you save time, but your IT staff will have their resources freed up to focus on other critical matters. Best of all, low code applications are easily scalable. You can evolve them as your business grows. Low cost is another benefit of using Quick Base's low code platform. When working with low code, many tasks that may have been designated to a third-party web developer can be accomplished in house. With minimal coding required, drag, drop, click, and configure are the basic operations your developer will need to know. In addition, seamless low code applications allow for more input from the business team, who have direct relationships with clients. Their input will allow for a greater user experience because modifications to your app can be made based on first-hand interactions with customers. 

Choosing a Low Code Solution Provider
Quick Base solution providers, like Trinity, can take away all the burden of creating a custom application. Trinity builds amazing cloud solutions and business process improvements, tailored to the unique needs of each client. After partnering with Trinity, Southwest Airlines saw results that not only simplified their management and reporting capabilities but also enabled effective policy and process creation. 
Flexibility and scalability are integral to these solutions, since Trinity understands that good businesses evolve over time. For over 20 years, Trinity has worked with clients to improve their efficiency, increase service levels, and upgrade their quality of output. Trinity is passionate about your satisfaction during all aspects of the engagement. Combine that with our technical expertise and you can understand why 90%+ of our clients return to us for other projects.